History of the Christian Church, Volume 7

by Philip Schaff
https://books.google.com/books?id=wO1MAQAAMAAJ&pg=PA791


1 Defensio orthodoxs fidei de sacra Trinit ate, contra prodigiosos errores
Michaelis Serveti Hitpani: ubi ostenditur hareticos jure gladii coe'rcendos esse,
el nominatim de homine hoc. Utm impio juste et merito sumptum Geneva fuisse sup
plicium. Per Johannem Calvinum. Oliva Roberti Stephani (201 pages).
It is also quoted under the sub-title: Fidelis Kxpositio errorum Mich. Serveti
et brevis eorundem Refutation etc., or simply as Refutatio Errorum M. 8. The
French version is entitled: Declaration pour maintenir la vraye foy que tiennent
tout Chrtstiens de la Trinity des personnes en un seul Dieu. Par Jean Calvin.
Contre les erreurs dtlestables de Michel Servet, Espaignol. Ou il est aussi monstrt,
qu'il est licite de punir les heretiques; et qu'a bon droict ce meschant a esti execute
par justice en la ville de Genive (360 pages). The work is accordingly cited
under different titles — Defensio, Refutatio, Declaration. See the bibliographi
cal notices in Calvin's Opera, VIII. Proleg. xxix-xxxiii.

Refutatio Errorum
https://books.google.com/books?id=U_S86Kqdp3EC&pg=PA542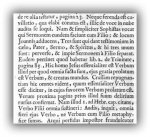 I ran into this when looking up Stancarus. Note how Bugenhagen is right in the mix.

Brevis Admonitio ad Fratres Polonos (1563)
https://books.google.com/books?id=U_S86Kqdp3EC&pg=PA590