Erasmus and Codex Vaticanus (2020)
Jan Krans
=========================
No discussion of whether Erasmus knew of, or saw, the ms. when in Rome c. 1508.
When he lived with Bombace and Aldus!
Overall, the idea from Krans that Erasmus did not know of Vaticanus is very dubious.
========================
"heated if infelicitous discussion on the so-called "Comma Johanneum."
Spoken like a real textcrit dupe.
The
Comma Johanneum
is an interpolation in 1 John 5:7, probably a third-century homilet-ical expansion on the "three witnesses" mentioned in the text. It entered the transmission of the Latin Vulgate relatively early, but remained absent from the Greek manuscripts until very late. Erasmus included the
Comma
in his third edition of 1522, mainly in order to thwart accusations of heresy. See Henk Jan de Jonge, "Erasmus and the Comma Johanneum," ETL 56 (1980): 381–89.
Typical nonsense.
========================
Earlier Vaticanus Dupes
Granville Penn (Annotations to the Book of the New Covenant: With an Expository Preface [London: Duncan, 1837]
Jan Hendrik Holwerda (see now especially Bart L.F. Kamphuis, New Testament Conjectural Emendation in the Nineteenth Century
========================
the dissemination of information about and of the vastly changing opinions on Codex Vaticanus from Erasmus' time until today is one of the
desiderata
of New Testament textual scholarship.
Yes, and it should highlight those who knew it was a junk ms. Especially c. 1850-60.
========================
Krans adds Valladolid - good!
1 Corinthians 15:51
========================
The agreement of Codex Vaticanus with the Vulgate is presented as a hall-mark of its quality.
Krans hides the fact that Vaticanus and the Vulgate have huge differences.
========================
Since in general he did not trust the Vatican manuscript, he used the information only sparingly, and invariably with critical distance.
Yay!
========================
Mark 1:2
Luke 10:1
Luke 10:17
Luke 23:46
Acts 27:16
========================
Latinization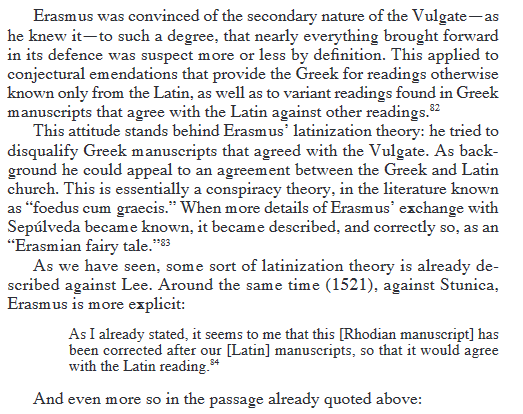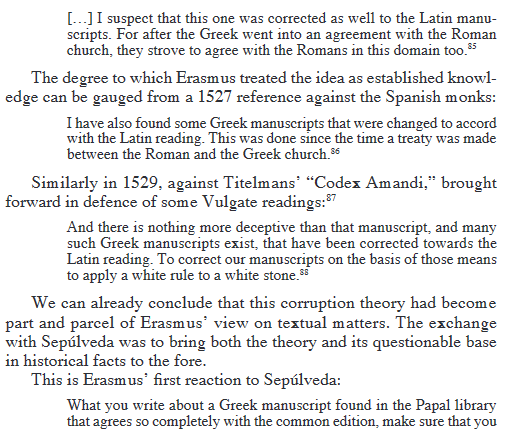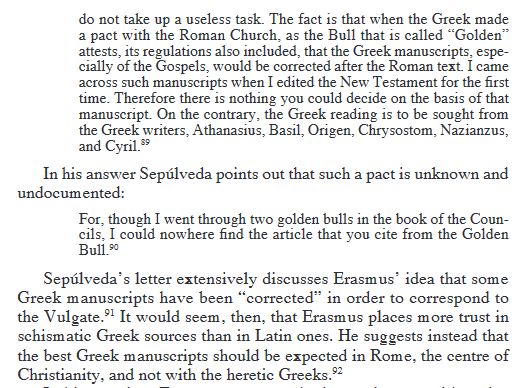 Erasmus switches to a Complutensian Polyglot defence, then returns:
On the "Bulla aurea." he discloses his source of information, namely Cuthbert Tunstall,97 and more or less withdraws the idea of a systematic and organised correction of Greek manuscripts. Nevertheless, he remains hesitant to accept Greek manuscripts that closely agree with the Vulgate:
I have not seen the Golden Bull myself. Cuthbert, bishop of Durham, a very learned man, told me about it, and I trusted him. He did not say that the correction of the manuscripts occurred in the bull, but yet maintained that the altering of the Greek manuscript had been done. I myself saw a manuscript of the gospels from Reuchlin:s library that completely agreed with our Latin edition; it was more recent, however.98
Continues
=============================
It can even be assumed that he did not realise that the readings sent to him on various occasions, as we have seen, were drawn from one and the same manuscript. In short, the temptation should be resisted to anachronistically project into his days the notoriety the manuscript would much
later acquire as the "Vatican manuscript"
par excellence and tout court.
Notoriety is the wrong word for those who fawn over Vaticanus.
=============================
Last edited: