1 John 2:23 and Edward Freer Hills - Vince Krivda account

(Added April 29: Vince Krivda has accepted the correction, with thanks, and understanding the concern for Edward Freer Hills. See the bottom post on this page.)
Vince Krivda
Interestingly, Hills's discussion on the verse points to its being afforded "full status" by modern versions because of its early Greek attestation along with the witness of the Latin Vulgate. Hence, the clause is present in the NA28. But more interestingly,

Hills interprets the KJV translator's bracketed inclusion of it as a gloss.52







Which Textus Receptus?! A Response to Mark Ward's Critique of Confessional Bibliology
https://www.academia.edu/43818767/W...ark_Wards_Critique_of_Confessional_Bibliology
=======================
=======================
This next is the longer text from King James Bible defended, is it the same as Text and Time? Yes.
"Similarly, at 1 John 2:23 the King James translators followed the Great Bible and the Bishops' Bible in adding the clause, he that acknowledgeth the Son hath the Father also, and in placing the clause in italics, thus indicating that it was not found in the majority of the Greek manuscripts or in the earlier editions of the Textus Receptus. Beza included it, however, in his later editions, and it is found in the Latin Vulgate and in Aleph and B. Hence modern versions have removed the italics and given the clause full status. The Bishops' Bible and the King James Version join this clause to the preceding by the word but, taken from Wyclif. With customary scrupulosity the King James translators enclosed this but in brackets, thus indicating that it was not properly speaking part of the text but merely a help in translation."
https://www.fbinstitute.com/Hill/Chapter8.html
Actually the 1611 "but" was not in brackets, a tech-geek error from Hills.

Note: modern versions were mostly interested in Vaticanus (and Sinaiticus), not the Vulgate, etc.
They are from the Vaticanus-primacy critical texts, the Westcott-Hort recension.
===============================

The "but" is the help in translation, NOT the full phrase.

Edward Free Hills was NOT calling 1John 2:23b a gloss or an interpolation.

===============================
Even in 1857, an astute writer pointed out that there was a myth that there were "but" brackets in the 1611, although he wrongly conjectures about what was shown in the 1611.
The Presbyterian Magazine, Volume 7
Dr. Vermilye's Rejoinder
https://books.google.com/books?id=o2vUAAAAMAAJ&pg=PA533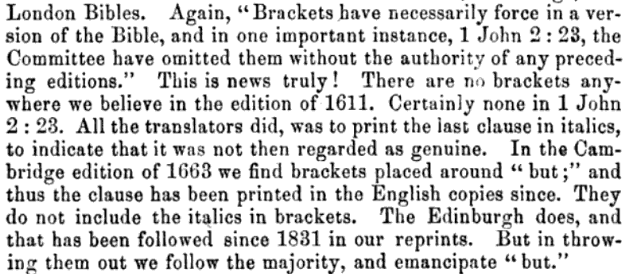 ===============================
Last edited: