Granville Penn with epistle verses showing dual addressing God and Jesus Christ
Hi,
2 Peter 1:1
Simon Peter, a servant and an apostle of Jesus Christ,
to them that have obtained like precious faith with us
through the righteousness of God and our Saviour Jesus Christ:
Annotations to the Book of the New Covenant: With an Expository Preface (1837)
Granville Penn
http://books.google.com/books?id=S80tAAAAYAAJ&pg=PA455


... II Peter - Chapter 1


The "masterly note (says Bloomfield) in justification of the rendering, 'our God and Saviour,' by Bp. Middleton, proves, that the passage is plainly and unequivocally to be understood as an assumption, that Jesus Christ 'is our God and Saviour.'". ... This proffered division of Erasmus, our revisers accepted from his authority, and chose the latter alternative. It is now to be inquired, whether they were justified in so doing. Though the import insisted on by those earnest commentators is, no doubt, doctrinally true, yet, the true construction of the passage does not rest on that truth of doctrine, but on soundness of interpretation. Let us, therefore, review this form of association, in the several places where it occurs in other places.

... This is not a question of doctrine, but of true and correct interpretation. A forced and artful interpretation can administer no lasting support to doctrine; but casts on it a suspicious character, by the manifest violence exercised to defend it. The doctrine, which those zealous commentators were anxious to confirm by their joint efforts on this text, needed not those exertions; since it pervades the whole Gospel-Covenant, and constitutes its entire foundation. Precipitate and ill-considered advocacy, acts hostilely to every cause. In this verse, the sacred writer meant to convey the sense to which our revisers (whose orthodoxy cannot be questioned) have been guided by Erasmus, viz. "the justification of our God, and "of our Saviour J. C."
Granville Penn also points out that it would be very simple to write "our God and Saviour Jesus Christ" directly in the Greek, without a convoluted and hidden to the reader grammatical construction. This is another type of fundamental point that is a bit too difficult for today's atomistic seminarians.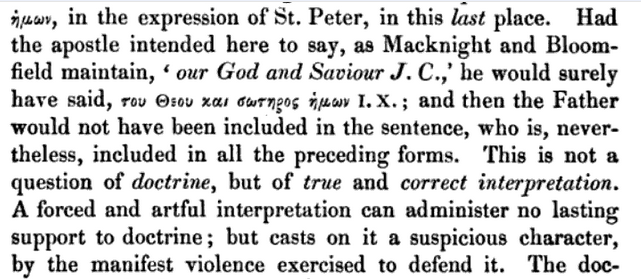 Ο και μας
Had the apostle intended here to say, as Macknight and Bloomfield maintain, '
our God and Saviour J. C.
,' he would surely have said, rou ©sot/ xai που
Θεός και Σωτήρας
ημών
Ιησούς Χριστός
;
που Θεός και Σωτήρας ημών Ιησούς Χριστός
And that was the list from which I drew the verses in my post giving examples of apostolic (Paul and Peter) dual addressing.

===============

Mirrored from CARM
Granville Penn with epistle verses showing dual addressing God and Jesus Christ
http://forums.carm.org/vbb/showthre...Sharp-s-Rule&p=6201862&viewfull=1#post6201862
Yours in Jesus,
Steven Avery
Last edited: