The first publication is here:
SS[ancti] apostolorum septem epistolae catholicae (1782)
Christian Friedrich Matthaei
https://books.google.com/books?id=AjJOAAAAYAAJ&pg=PR56
p. lvi-lxii - December 10, 1780
Also referenced in p. 138-143 section, Eugenius on p. 141

Solecism starts on p. LX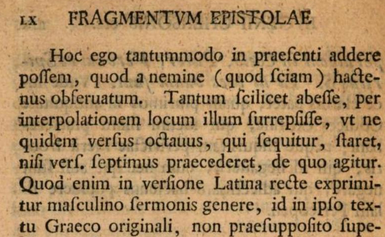 ======================================================
New criticisms on the celebrated text, 1 John v. 7, a lect., (1785, first German edition, 1829 English)
Franz Anton Knittel -
translated by William Alleyn Evanson (1786-1857) -
https://archive.org/details/newcriticismsonc00knitrich/page/206/mode/2up
http://books.google.com/books?id=kKsCAAAAQAAJ&pg=PA206
German title 1785
Neue Kritiken über den berühmten Sprych: Drey sind, die da zeugen im Himmel, der Vater, das Wort, und der heilige Geist, und diese drei sind eins
Braunschweig 1785
https://www.worldcat.org/title/fran...orlesung/oclc/181670814&referer=brief_results
https://books.google.com/books/about/Franz_Anton_Knittels_neue_Kritiken_über.html?id=B2TpXwAACAAJ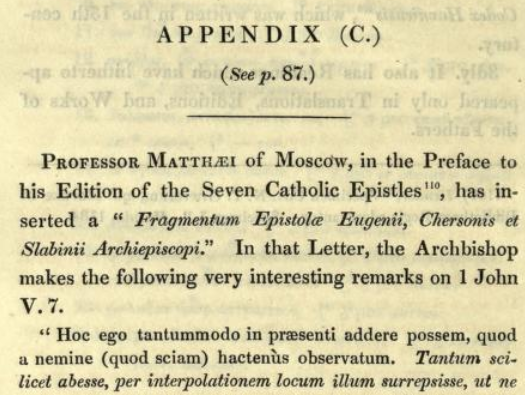 Eugenius Bulgaris (1718-1806)
http://www.britannica.com/biography/Eugenius-Bulgaris
World-class scholar, covered elsewhere.
Christian Frederick Matthaei (1744–1811)
http://en.wikipedia.org/wiki/Christian_Frederick_Matthaei
Matthaei was a contra on the heavenly witnesses authenticity.
A bit of a pre-Tischendorf, accused of stealing mss.
Franz Anton Knittel (1721-1792)
http://en.wikipedia.org/wiki/Franz_Anton_Knittel
Knittel was a very strong defender.

https://books.google.com/books?id=q18NAAAAYAAJ&pg=PA183
Last edited: