Gardthausen, Montfaucon and Palaeographic Sources
Die Markierung von Zitaten in den Handschriften
https://books.google.com/books?id=lG-eeQIBNhMC&pg=PA81
[/URL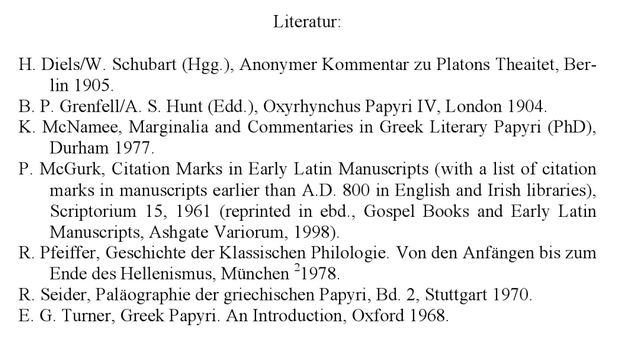 I.iteratur:
H. Diels/W. Schubart (Hgg.), Anonymer Kommentar zu Platons Thcaitct, Berlin 1905.

B. P. Grenfell/A. S. Hunt (Edd.), Oxyrhynchus Papyri IV, London 1904.

K. McNamee, Marginalia and Commentaries in Greek Literary Papyri (PhD), Durham 1977.

P. McGurk. Citation Marks in Early Latin Manuscripts (with a list of citation marks in manuscripts earlier than A.D. 800 in English and Irish libraries).

Scriptorium 15, 1961 (reprinted in ebd.. Gospel Books and Early Latin Manuscripts, Ashgate Variorum, 1998).

R. Pfeiffer, Geschichte der Klassischen Philologie. Von den Anfangcn bis zum Ende des Hellenismus, MUnchcn "1978.

R. Seider, Palaographie der griechischen Papyri, Bd. 2, Stuttgart 1970.

E. G. Turner, Greek Papyri. An Introduction, Oxford 1968.