Johann Christoph Wolf (1683-1739)
https://en.wikipedia.org/wiki/Johann_Christoph_Wolf

Curae philologicae - Vol 5
Johann Wolf
http://books.google.com/books?id=Gz5BAAAAcAAJ&pg=PA315
p. 293-315
Twells is 300-313 of Wolf -according to Bengel, this can be checked.


Gnomen
http://books.google.com/books?id=xphDAAAAcAAJ&pg=PA136

II. Not a few of those, who rightly and religiously defend this very expression, are too eager in seeking out and employing supports even of such a kind as have no strength. That has occurred to a distinguished man, Leonard Twells, whose miscellaneous production Wolf has translated from English into Latin, and with a few corrections, has put forth on this passage, pp. 300—313. I read and attentively considered Twells before the publication of my Apparatus : Wherefore, when I proceeded with more of self-distrust than he did, I did not do so without good reason, and I would have the reader imagine that there is matter for deliberation. I am not aware that anything new needs particularly to be supplied : I will mention a few points, which bear upon the subject.


The Grammatical is covered well also in Forster (also citing Burgess)

And Wolf has more, and this pic has interesting references.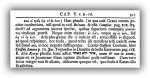 Gousset (next post)

Jacob Trigland
https://www.purebibleforum.com/index.php/threads/a.1222

Grantley bibliography
Wolf, Johann Christian. Cura philologica et critica. 5 vols. Basel: Christ, 1741.

(Only covered by Grantley in the origin of "Comma Johanneum")