Middleton on 2 Peter 1:1 and Ephesians 5:5
...Ephesians 5:5, and 2 Peter 1:1 (or comments involving the same construction) are all supported in the writings of the Greek fathers. See Middleton's comments on the matter.
2 Peter 1:1
http://books.google.com/books?id=0LfTEuP9cV0C&pg=PA432
In his examination of the Fathers, Mr. Wordsworth has not been able to collect any important evidence in behalf of the proposed explanation: hut the reason has been assigned by him: the Second Epistle of Peter is rarely quoted by the Fathers: their evidence, therefore, in a question like the present, is not easily obtained. The only passage adduced by Mr. W. is from the Scholia, under the name of OEcumenius; and the passage proves little or nothing, because it is rather in the way of reference or allusion than of actual quotation.
========================
However, Hillary of Arles - Andreas - Oecumenius - do reference the verse.
https://books.google.com/books?id=MOUd-wSZ4hEC&pg=PA129
Clement of Alexandria - Photius - Firmilian to Cyprian - Pseudo-Clementines - Methodius
https://biblicalstudies.org.uk/pdf/tp/2peter_green.pdf
========================
Ephesians 5:5 - also p. 69 and 507
http://books.google.com/books?id=0LfTEuP9cV0C&pg=PA362
Chrysostom, Cyril of Alexandria (error per Coleridge, and Theodoret (yes)
Not given
Clement of Alexandria, Cyprian, Tertullian, Jerome, Athanasius, Augustine, Ambrose, Cassian, John Damasus
Hugh Stuart Boyd
http://books.google.com/books?id=Dt360V3HjmQC&pg=PA440
http://www.theologue.org/GREEKARTICLE-Boyd.html
Coleridge
http://books.google.com/books?id=PyxhMbtMA8MC&pg=PA183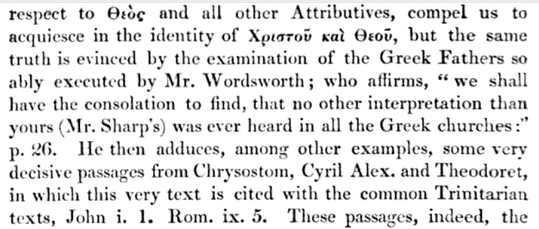 Last edited: