First noticed in LaParola Matthew 28:6
AN IMPORTANT MS OF THE NEW TESTAMENT.*
(Cod. Mus. Britt. Add. 33.277 )
BY PROF. J. RENDEL HARRIS.
https://www.jstor.org/stable/4617085
THE Manuscript which I propose to describe is one which was acquired quite recently by the British Museum, by purchase from
Consul H. L. Dupuis,
on the 30th of July, 1887. It was first studied, I believe, by the late Dean Burgon, whose absence from these fields of study will be felt for many a day, and whose work on the texts of the New Testament has been a continual inspiration both to his friends and to those who were his critical adversaries.
Dean Burgon pointed out that the ms had a remarkable text, closely allied to the Sinaiticus.

...



....
So far it does not seem as if we had lighted upon anything very
remarkable, or very superior to the better class of cursive mss : the
same thing is true when we come to collate the Gospels: at first there
are no important variants, or hardly one to a page; but as we work
on, striking readings begin to appear, as if they had in some ancestral
copy escaped the hand of a reviser who became more careless as ho
proceeded; and when we come to the
Gospel of Mark we run into a
crowd of variants, almost every one of which can be paralleled either
in the Sinaiticus or some other early uncial text.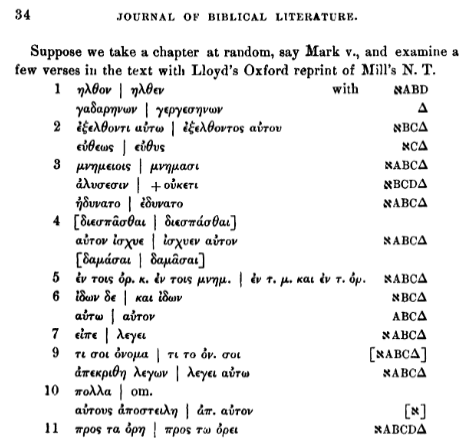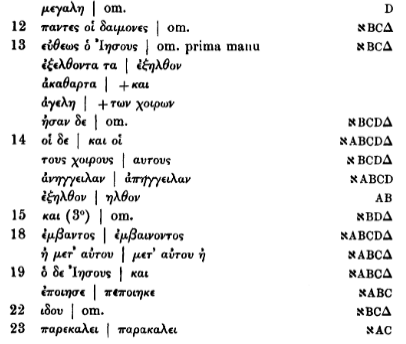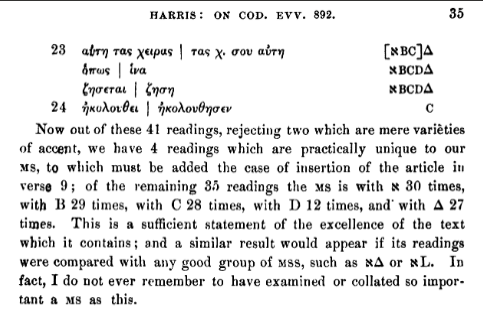 Last edited: