A paper that pulls in Sinaiticus a tiny bit.

twice on p. 64

p. 66
Acknowledgments
We are very grateful to ... our colleagues at the British Library in London, UK for supply of photos in connection with the Codex Sinaiticus project ... The many years of good cooperation with these and other fine colleagues have been essential for reaching the present state of knowledge on the deterioration of cultural heritage leather and parchment.
You can see how Sinaiticus works to confuse materials science because they feel they have to accept the presumption that it is 1650 years old! So they grasp at straws to find the needed deterioration.

Note that they work off photographs. Quire properly.
Contras frequently criticize that from SART, which is very absurd.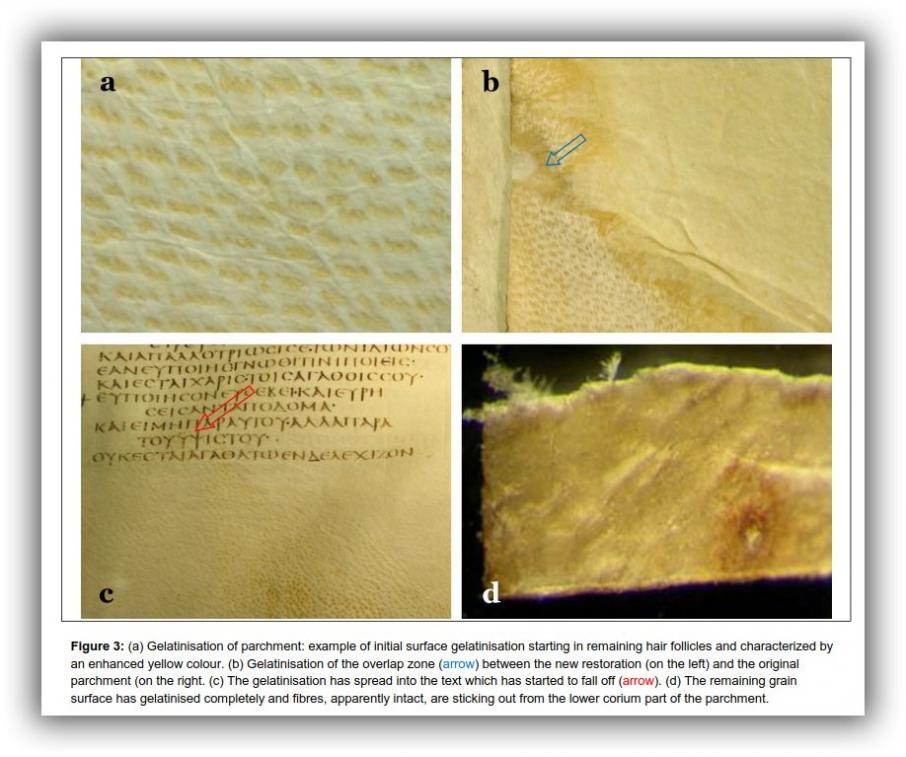 p. 65 - Pics A-B-C are Sinaiticus.

(And nobody comments that the D picture, from the 1700s, shows much more more deterioration!)


And notice the "enhanced yellow colour" ... hmmm .. what enhances yellow?

The partly gelatinisation, for example in connection with hair holes, may spread with time and may lead to loss of text and paint layers when the inflexible gelatine surface cracks and falls off (Figure 3c). Over time the full surface may have gelatinised and the gelatinisatior may have proceeded into the inner structure leaving the whole parchment in a non fibrous gelatine form as shown at this parchment fragment originating from the 17th century (Figure 3d). Figure 3a-c is from parchment leaves of the Codex Sinaiticus dating from the 4th century.

20

The rate at which the gelatinisation spreads depends on the storage conditions and treatment as the study of the vegetable tanned leathers from the British long term trial and accelerated ageing of parchment clearly shows.

12 21-24
They give footnotes, but not the quire and page number of the pictures!
Last edited: