CARM
I was quoting his remarks, so I've at least got that much right. My point was that his explanations seem to relate everything to number of people. Do you know of an exception? Which is also why the "Rule" could only sort of work with the full-blown Trinitarian presupposition that the members...
Six Letters (1802)
Christopher Wordsworth
https://books.google.com/books?id=_10SAAAAIAAJ&pg=PA132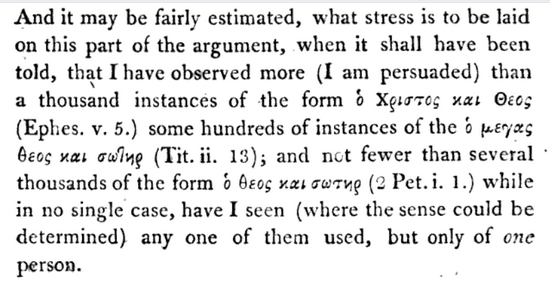 Ironically, nobody has questioned this, and today we have tools that would make it easy to search.
Daniel Wallace seems to be a bit uneasy.
Daniel Wallace:
"Unfortunately, the work that Wordsworth undertook is only minimally documented in his Six Letters. He lists but a few of the thousands of references."
Granville Sharp's Canon and its Kin: Semantics and Significance (2003)
https://books.google.com/books?id=xD11FZNLWpYC&pg=PA59
p. 59-60
Last edited: