The Sessa Family of Printers
Melchiorre Sessa the elder (active 1505-1555),
https://www3.nd.edu/~italnet/Dante/text/1564.venice.sessa.html

Domenico Niccolini da Sabbio (1500-1546/7) or Sabio
https://de.wikipedia.org/wiki/Giovanni_Antonio_Nicolini_da_Sabbio
NICOLINI da Sabbio, Giovanni Antonio
Dizionario Biografico degli Italiani - Volume 78 (2013)
https://www.treccani.it/enciclopedia/nicolini-da-sabbio-giovanni-antonio_(Dizionario-Biografico)/

=======================================

Tes Kaines Diathekes apanta. Noui Testamenti omnia (1538)
https://books.google.com/books?vid=IBCR:BC000000587

Some Remarkable Greek New Testaments (1886)
Isaac Hollister Hall (1837-1896)
https://www.jstor.org/stable/3268666
I. De Sabio, 1538.
ONE of the rarest Greek New Testaments known is that printed at Venice, in 1538, by "Io. Ant. de Nicolinis de Sabio" at the expense of Melchior Sessa. An entire copy existed in the Library of the Duke of Sussex; a copy of the second volume (Epistles and Revelation) is in the Bibliotheque Nationale at Paris, and was examined for Reuss by Eugen Scherdtlin; but no complete copy was known to Reuss. A copy having lately come into my possession, I examined it with care, and thought that its peculiarities were worth recording. (continues)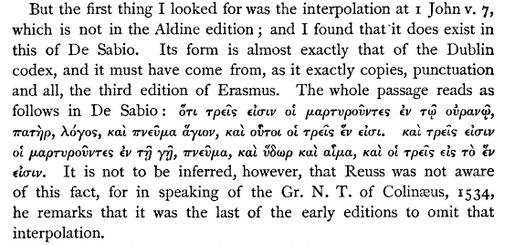 An Early Edition of the New Testament in Greek (1941)
William Henry Paine Hatch (1875-1972)
https://www.jstor.org/stable/1508198

Calvin's New Testament Commentaries (1993 2nd edition)
Thomas Henry Lewis Parker (1916-2016)
http://books.google.com/books?id=w9fyK2ID7EIC&pg=PA124
GRAPH of early 1500s NT - can be improved!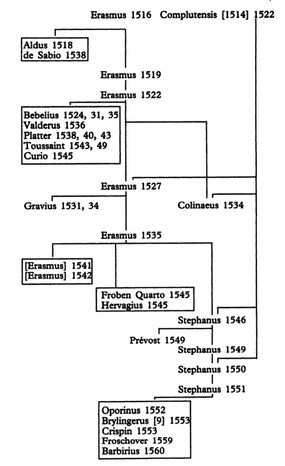 Grantley McDonald - same info in the earlier Raising the Ghost of Arius
The Basel printer Johannes Bebelius produced three editions (1524, 1531, 1535), based largely on Erasmus' third edition; Bebelius (or rather his editor, Jacob Ceporinus) omitted the comma in his first two editions, but restored it in the third, perhaps for the same reasons as Erasmus himself. Bebelius' third edition formed the basis of Johannes Valderus' edition (Basel, 1536), which in turn served as parent for that of Melchior Sessa (Venice, 1538). Consequently, both Valderus and Sessa provide the comma.3 (Biblical Criticism in Early Modern Europe, pp. 56–57)
3 Hatch 1941.
Melchior Sessa's 1538 Greek New Testament online
Elijah Hixson
https://evangelicaltextualcriticism.blogspot.com/2021/07/melchior-sessas-1538-greek-new.html

Pure Bible Forum (this page)
1538 Greek NT - Melchior Sessa and Nicolinis de Sabio
https://www.purebibleforum.com/inde...t-melchior-sessa-and-nicolinis-de-sabio.2017/
Last edited: