History

The Suida Byzantine encyclopedia (Medieval Greek:Σοῦδα, translit. Soûda; Latin: Suidae Lexicon)
http://en.wikipedia.org/wiki/Suda
(note that Wikipedia has two different ideas about Suida being a name of the author)

And it is an interesting question to check the manuscript, the availability of which is likely discussed at the Ada Adler (1878-1946) edition, 1928–1938: Suidae Lexicon. Leipzig: B. G. Teubner. 5 vols. Note: this edition is in my area at Bard College.
http://www.worldcat.org/title/suidae-lexicon/oclc/600720191
And this review by H. Stuart Jones helps describe the meticulous accuracy of the edition.
https://www.cambridge.org/core/jour...8-unbound-46/584DB358E775B5100FDBB920CAC29402
And the online editions are here:
https://onlinebooks.library.upenn.edu/webbin/work?id=olbp69034
Including a very nice 1564 printed edition
https://catalog.hathitrust.org/Record/010823467

in the 900s is quoting from:

Theodorus Anagnostes (c. 500 AD), (Greek: Θεόδωρος Ἀναγνώστης, Theodoros Anagnostes)
http://en.wikipedia.org/wiki/Theodorus_Lector

an historian also known as Theodorus Lector,

Theodorus Lector, reader of the church of Constantinople. He composed in two books a tripartite history out of Socrates, Sozomen, and Theodoret, extant in MS. at Venice. It was copied by Leo Allatius, but not published. Valesius used his MS. in his edition of those authors.
http://www.ccel.org/ccel/wace/biodict.html?term=Theodorus+Lector

This note would indicate that the MS. in Venice or the copy by Leo Allatius (1586-1669) would give a more primary source, and that the edition of Valesius (1603-1676) could alternately be checked, although that would be less helpful. The big catch, of course would be if the MS. in Venice could be consulted. Apparently it is complete for those books, his later history is the one that is said to be fragmentary.

and Theodorus lists the books of:

Diodorus of Tarsus (c. 380) (Greek Διόδωρος ὁ Ταρσεύς; died c. 390)
https://en.wikipedia.org/wiki/Diodorus_of_Tarsus

586 Diodorus monachus primum suit, Juliani el Valentis temporibus, postea vero episcopus Tarsi Ciliciae. Scripsit hic libros complures, ut testatur Theodorus Lector in Historia ecclesiastica. Quorum hi sunt tituli : ... In Epistolam Joannis evangelistae , de hoc quod unus est Deus in Trinitate.

είς τήν Επιστολήν Ιωάννου τού Ευαγγελιστού - περί τού είς Θεός έν Τριάδι

Diodorus, a monk ... in the time of Julian of Valens, bishop of Tarsus in Cilicia ... wrote a number of books ... according to Theodore Lector in the History of the Church. Which are titled... (many listed)
In the evangelist John's epistle, concerning that God is one in Trinity.
- Google smoothed - have done more completely

Patrologiæ cursus completus: seu, Bibliotheca ..., Volume 86, Part 1 (1865)
https://books.google.com/books?id=ZD73u4Fcn_EC&pg=PA215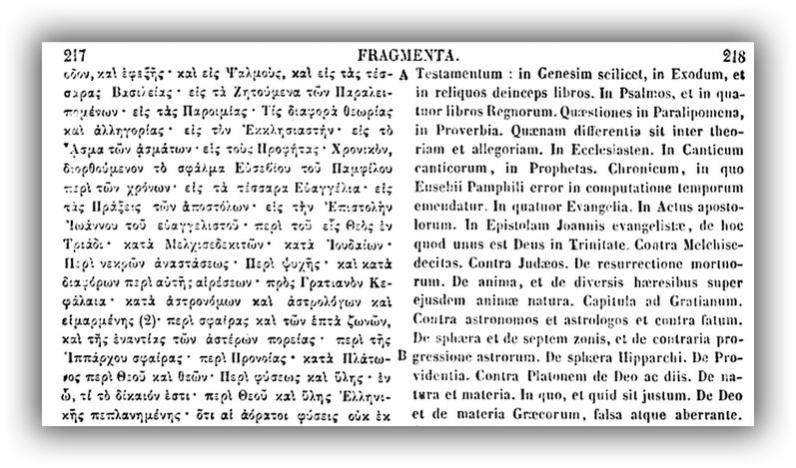 Eis ten Epistolen Ioannou tou Euaggelistou peri tou eis Theos en Triadi. - (Ben David)
είς τήν Επιστολήν Ιωάννου τού Ευαγγελιστού - περί τού είς Θεός έν Τριάδι

Now checking ...
Suidas various printings
Is this part extant directly in Theodorus
Add the history - Dorhout, Brownlee, Burgess, Ben David et al and any contra harumphs
Best transcription of the Suidas and Theodorus Greek
(Suidas was in Greek and translated to Latin)
Last edited: