Facebook - Textus Receptus Academy
https://www.facebook.com/groups/467217787457422/permalink/721704558675409/
Theodore Peter Letis (1952-2005)
http://greatchristianlibrary.blogspot.com/search/label/Letis Theodore Peter
Here are salient quotes I found. Generally Letis is saying that Erasmus, especially the Annotationes, provided fodder for the anti-Trinitarian movement.
Some previous coverage here:
Theodore Letis - similar views to Grantley on Reformation-era, and later, use of Erasmus by non-Trinitarians
https://www.purebibleforum.com/inde...Onsl2kl-zfekqaRBqEtbgHKTvI8Hjmks4VQ#post-4950
===================
From Sacred Text to Religious Text: An Intellectual History of the Impact of Erasmian Lower Criticism on Dogma as a Contribution to the English Enlightenment and the Victorian Crisis of Faith
Theodore P. Letis
https://era.ed.ac.uk/handle/1842/6798
https://era.ed.ac.uk/bitstream/handle/1842/6798/511292.pdf
https://confessionalbibliology.com/wp-content/uploads/2015/08/From-Sacred-Text-to-Religious-Text.pdf
"This is particularly the case if these dogmata have been the source of religious strife and persecution-- the blight from which Erasmus, Grotius and all Antitrinitarians suffered." - p. 154

"In the sixteenth century and beyond, Erasmus was forever being claimed by the advocates of Antitrinitarianism as the founder of their movement." - p. 162

"Other historical accounts of the rise of Antitrinitarianism, written by later Unitarian historians, seem always to begin with Erasmus. Wallace in his Antitrinitarian Biography remarks:" - p. 164

Quoting Wallace
"Erasmus has given occasion, both to friends and foes, to consider him an Antitrinitarian.... That he is rightly classed by the Ministers of Poland and Transylvania, among those of the early reformers, who were instrumental 'in inculcating a knowledge of the true God and Christ, ' appears from ... remarks which occur in the Preface Dedicatory to his edition of Hilary. [They] certainly had their effect in smoothing the way way for Antitrinitarianism ..." (Wallace Vol. 3: 539). 57 - p. 165

57 Antitrinitarian appropriation of Erasmus has been the occasion of some offense to those who view Erasmus as perfectly orthodox. But such opinions of Erasmus can sometimes result in treatments that are a bit tendentious in the excercise of saving Erasmus from such associations e.g . Backus (1991). This issue will be briefly treated in the conclusion of the dissertation. - p. 165

What we have attempted to establish in this chapter is that some of Antitrinitarianism's more important roots can be traced to sixteenth-century Erasmianism and the lower criticism he practiced. - p. 181
==============================
The Robert Wallace book is totally missing in Grantley, as well, despite this section being directly on the same theme. Granted, it is somewhat buried.
Here is the first page of the Erasmus Appendix.
Antitrinitarian Biography: Or, Sketches of the Lives and Writings of Distinguished Antitrinitarians; Exhibiting a View of the State of the Unitarian Doctrine and Worship in the Principal Nations of Europe, from the Reformation to the Close of the Seventeenth Century: to which is Prefixed a History of Unitarianism in England During the Same Period, Volume 3
https://books.google.com/books?id=dX0QAAAAIAAJ&pg=PA539
https://archive.org/details/antitrinitarianb03walluoft/page/538/mode/2up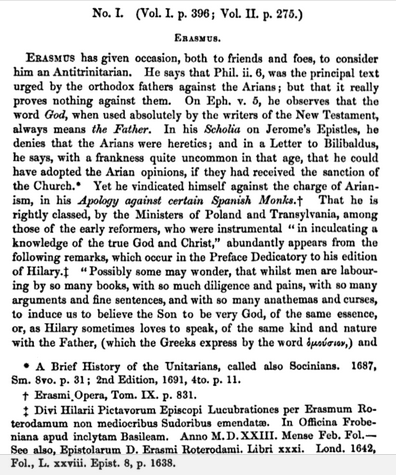 p. 541

Last edited: