Graham G. Thomason
https://www.linkedin.com/in/grahamthomason/

FarAboveAll
http://www.faraboveall.com/index.html

A superb new paper for 2019:


The Reading of Codex Alexandrinus in 1 Timothy 3:16
Verification of Dean Burgon's Evidence
Graham Thomason, 13
th March, 2019
www.FarAboveAll.com
http://faraboveall.com/015_Textual/1Tim_3_16_Alexandrinus.pdf

One tweak found so far.
This page from John Berriman gives the text from William Wotton (1666-1727), it was not a verbal reference from Berriman
. Note, I have not put much effort into the Wotton primary source, and I do have a bit more in the paper to review. It really fills a big need, by enhancing the Berriman studies and also adding solid scholarship and analysis.


Θεος ἐφανερωθη ἐν σαρκι; or, a critical dissertation upon I Tim. iii. 16
John Berriman (Google error puts Granville Sharp too)
https://books.google.co.uk/books?id=OJxhAAAAcAAJ&pg=PA154



Mr. Wotton who publish'd the Epistles of Clemens Rom. in the Year 1718, declares it to be past all Doubt that it ever read

Θ̅Ϲ̅

,

i. e. θεός in this Place

: as will appear, he says, to any one that accurately inspects it (c) ;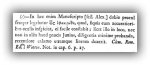 If you search "procul semper legebatur" you do find some more 1800s references.

Clearly, this could use a precise Latin-->English translation as well.
Note the reference to Junius, presumably:


Franciscus Junius (the younger)
http://en.wikipedia.org/wiki/Franciscus_Junius_(the_younger)