Facebook
Textus Receptus Academy - PIC
https://www.facebook.com/groups/467217787457422/permalink/631545641024635/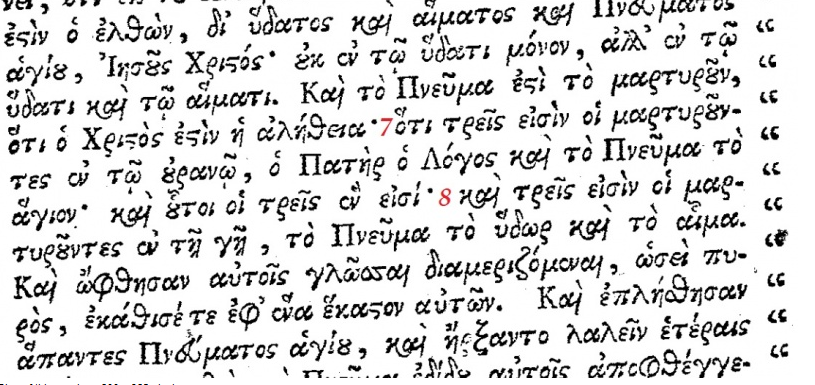 Pure Bible
https://www.facebook.com/groups/purebible/permalink/2826196417472229/?comment_id=2914467421978461
Check Nick Sayers page? - 10222590240694581
==============================
Johannine Comma blog
Johannine Comma and Joseph Bryennios
textusreceptus.com
Johannine Comma and Joseph Bryennios
http://textus-receptus.com/wiki/Johannine_Comma_and_Joseph_Bryennios
==============================
Steven Avery

That material is originally taken from the article in:

A Cyclopedia of Biblical Literature, Engravings (1881)

https://books.google.com/books?id=1McUAAAAYAAJ&pg=PA139

William Wright (1813-1855) - Worldcat identity

William Wright, M.A. and LL.D. of Trinity College, Dublin,

Translator of 'Seiler's Biblical Hermeneutics."

http://orlabs.oclc.org/identities/lccn-no00-52451
In his section in BIblical Hermeuntics, Wright says it "betrays symptoms of its Latin origin.
Biblical Hermeneutics, Or, The Art of Scripture Interpretation
https://books.google.com/books?id=1J4XAAAAYAAJ&pg=PA617
One point is that it does not have for the earthly witnesses "these three agree in one", which is following the Latin Lateran Council style.
Plus it has a Latin variant in v. 6, "for Christ is the truth".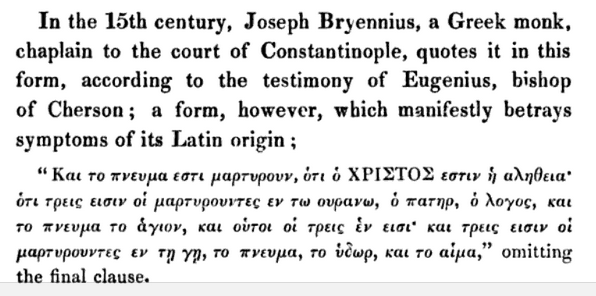 Nick added the picture of the section.
The exact text and translation issue, and context, is still up in the air.
Last edited: