WIP

Lateran Council -
Greek patriarchs Constantinople Jerusalem -
deputies of the patriarchs Antioch Alexandria -
concurrence Oriental church


Thirteen Sermons Concerning the Doctrine of the Trinity: Preach'd at the Merchant's-lecture, at Salter's Hall (1722)
Edmund Calamy
https://books.google.com/books?id=WhwtAAAAYAAJ&pg=PA481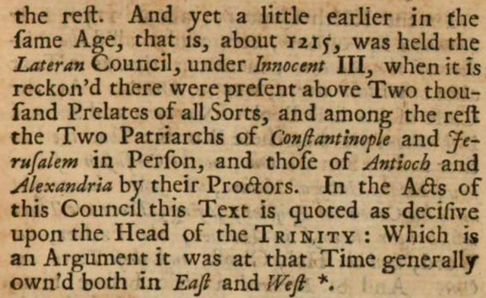 And yet a little earlier in she same Age, that is, about 1215, was held the Lateran Council, under Innocent III, when it is reckon'd there were present above two thousand Prelates of all sorts, and among the rest the Two Patriarchs of Constantinople and Jerusalem in person, and those of Antioch and Alexandria by their Proctors. In the Acts of this Council this Text is quoted as decisive upon the Head of the Trinity : Which is an Argument it was at that Time generally own'd both in East and West *.
(continues with Simon and Martin as to whether the Brittanicus ms. used the Lateran wording)

=================

Antijacobin Review Vol 50 p. 606 - Sabellian or Unitarian Controversy Letter XII - (1816)
https://books.google.com/books?id=NevTxkZHhJYC&pg=PA607

=================

William Hales (1818)
https://books.google.com/books?id=SmcUAAAAQAAJ&pg=RA1-PA142

Horne (1821)
https://books.google.com/books?id=PFwXAAAAYAAJ&pg=PA505

This great council was attended by the Patriarchs of Constantinople and Jerusalem; and by the proxies of the Patriarchs of Antioch and Alexandria, and by the representatives of the Eastern churches; whose concurrence in these acts, is no mean proof that the authenticity of the seventh verse was allowed by them in the thirteenth century.
Last edited: