matt13weedhacker
"The Comma is missing from the actual original text (contra erasiers and replacements by later hands and later marginal notes) of all Pre-1500 A.D. (note before 1500 A.D.) Armenian manuscripts of the NT."
https://www.tapatalk.com/groups/bib...nty-new-york-world-clas-t5868-s80.html#p82143
Your proof of this claim?
No proof in your post.
==========
There is no parable in Potamius saying that of the Father, Son and Holy Spirit, "and these three are one".
Do you know what is a parable?
===========
marr13weedhacker
"I suspect there is some doubling up of references to ECW writers"
Not likely.
References are vetted carefully.
And I have been checking carefully and have found additional references, but no doubles.
============
Your 8 questions are incoherent.
3,4,7,8 talk of the Latin Vetus Latina of Athanasius.
You are not familiar with the material.
=============
"Some of them say Diotrophes created the solecism."
3 John 9 (AV)
I wrote unto the church:
but Diotrephes,
who loveth to have the preeminence among them,
receiveth us not.
And I would like to see who places Diotrephes as the omitter.
Wait, the spelling threw me, may have it,
Keith Mason,
and it made it to
KJVToday.
Facebook - Textus Receptus Defense - 2013
https://www.facebook.com/groups/386979574719540/permalink/506003376150492/

Were the Apostle John's Epistles Corrupted during His Own Lifetime?

We know from early manuscripts that 1 John Chapter 5 was corrupted at a very early stage. We know that passages such as Johannine Comma (1 John 5:7) do not appear at all in some of the early manuscripts. So why would the Johannine Comma be removed from the scriptures when the Bible does not rely on this comma alone to prove the Trinity? Was there motive, opportunity and a logical suspect for the early corruption of Johns Epistles?

This only makes sense if we could find someone with the power and influence to change manuscripts that had motives specifically aimed at the Apostle John himself.

The Bible tells us that John had an arch enemy. He was named Diotrephes and he attempted to subvert John's doctrines. He is mentioned by name in John's Third Epistle at verses 9 to 10:

3 John 1:9-10
"I wrote unto the church: but Diotrephes, who loveth to have the preeminence among them, receiveth us not. Wherefore, if I come, I will remember his deeds which he doeth, prating against us with malicious words: and not content therewith, neither doth he himself receive the brethren, and forbiddeth them that would, and casteth them out of the church."

This is unprecedented in the scriptures. Nowhere else in the Bible do we read of a heretic preventing a community of believers from receiving the epistles of an Apostle. Diotrephes had the motive and could have modified the contents of John's epistles to suit his own theology and his congregation would not have known about it. We know he had enough power and influence to do so since even John could not get to the believers under Diotrephes' control. Diotrephes appears to be a prime candidate for corrupting John's epistles.

If Diotrephes removed the Comma before 100 AD, there would have been ample time for the corrupted reading to receive wide circulation. Thereafter the Comma-free copies may have gained irreversible ascendancy.

Of course, Diotrephes' deletion of the Comma is speculation. However, the fact that John had such an influential rival validates the hypothesis that John's epistles may have been corrupted during John's lifetime.
KJVToday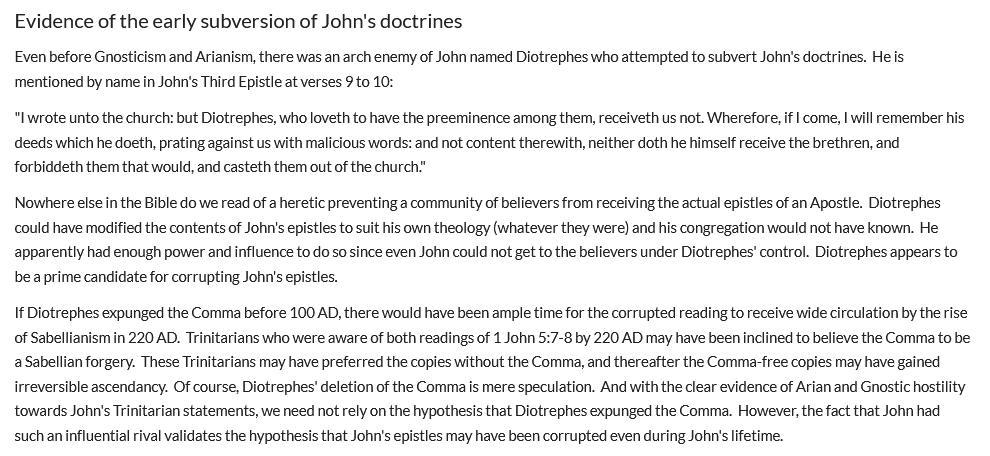 ============
Last edited: