Well expressed here:

An Introduction to the Critical Study and Knowledge of the Holy Scriptures, Volume 4 (1825)
Thomas Hartwell Horne
https://books.google.com/books?id=_iSt5LY1FXsC&pg=RA1-PA456
The preceding view of the internal evidence for the disputed clause of 1 John v. 7. has been given at length, on account of its alleged importance for completing the sense of the apostle's argument (which would otherwise he imperfect), and also because it is a proof of the force and propriety of which every sincere and impartial reader ofthe word of God is fully competent to decide.2

2 The following observations of the celebrated critic, Professor John Augustus Ernesti. materially confirm the argument above stated. Speaking of the evidence deduced by Gricsbach from manuscripts against this clause, he says: —

"If the genuineness of the seventh verse depended on Greek MSS. alone, and wns to be estimated by them solely, Griesbach would have gained his cause. But although the Greek MSS. take a lead in this inquiry, yet learned and skilful critics require other helps also. In my opinion, its connection with the antecedent and subsequent verses prevents me from subscribing to their decisions, who think this verse ought to be expunged: for in the ninth verse, a comparison is introduced between the testimony of men, and the testimony of God himself; in which the apostle undoubtedly refers to these heavenly witnesses, of whom he had made mention a little before."

Ernesti, Institutio Interpretia, Novi Testament!, p. 109.
See also William Hales:
https://books.google.com/books?id=lyBMAAAAYAAJ&pg=PA225

And more here!
Amicable correspondence relative to some popular tenets as held by the united Church of England and Ireland; between A. B. and C. D., beneficed clergymen, and E. F., a clergyman without cure of souls (1862)
https://books.google.com/books?id=_PVhAAAAcAAJ&pg=PA62
... and in accordance with this, Valpy, the learned editor of a new edition of the Greek Testament, etc., observes, "Istis verbis e textu sublatis, nescio quid curti et inexpleti semper mihi apparuit."—

"If these words be expunged from the text, there has always appeared to me something unaccountably defective and incomplete in the passage."

So say I,
A. B.
Defensio Fidei Nicaenae (1703)
https://books.google.com/books?id=WJ8PAAAAIAAJ&pg=PA715

Theological Works (1721)
Charles Leslie
https://books.google.com/books?id=v2FJAAAAcAAJ&pg=PA320

Letters to Edward Gibbon (1794)
George Travis
https://books.google.com/books?id=nf0qAAAAYAAJ&pg=PA447

And more:

A New Literal Translation, from the Original Greek of All the Apostolical Epistles: With a Commentary, and Notes, Philological, Critical, Explanatory, and Practical. To which is Added, A History of the Life of the Apostle Paul, Volume 6 (1806)
James Macknight
https://books.google.com/books?id=_sMUAAAAYAAJ&pg=PA99
p. 109-113
https://books.google.com/books?id=_sMUAAAAYAAJ&pg=PA109

Baptist Magazine (1817)
Reflections on 1 John v. 7
https://books.google.com/books?id=zeQRAAAAIAAJ&pg=PA46
discusses Macknight
disturbing the sense of the verses with which it is joined, rather renders it ntore connected and complete. 2. That in verse 9,i the witness of God is supposed to have been before appealed to, If tee receive the witness of men, the witness of God is greater. And yet, if verse 7 is excluded, the witness of God is no where

Christian Advocate (1835)
William Brownlee
https://books.google.com/books?id=_tk2AAAAMAAJ&pg=PA64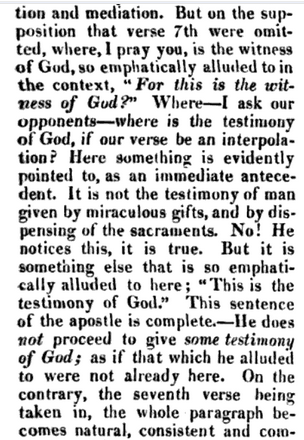 CONTINUES .. EXCELLENT

Patrick Symon
http://archive.org/stream/witnesseschrist01patruoft#page/n623/mode/2up

and

Thomas Rennell
http://books.google.com/books?id=0mIAAAAAMAAJ&pg=PA19

also have sermons on "The witness of God".

Azim Mamanov
https://www.purebibleforum.com/index.php/threads/a.783/post-1649
Last edited: