Hilary of Poiters
https://en.wikipedia.org/wiki/Hilary_of_Poitiers
Hilary of Poitiers
(
Latin
:
Hilarius
; c. 310 – c. 367)
[2]
was
Bishop of Poitiers
and a
Doctor of the Church
. He was sometimes referred to as the "Hammer of the
Arians
" (
Malleus Arianorum
) and the "
Athanasius
of the West",
[3]
His name comes from the Latin word for happy or cheerful. In addition to his important work as bishop, Hilary was married and the father of
Abra of Poitiers
, a nun and saint who became known for her charity.
[4]
===================================
review of John Berriman
http://books.google.com/books?id=87UPAAAAQAAJ&pg=PA115

On Psalm 122 per Erasmus
Discourses and Dissertations on the Scriptural Doctrines of Atonement and Sacrifice:
William Magee
http://books.google.com/books?id=jFIsAAAAYAAJ&pg=PA108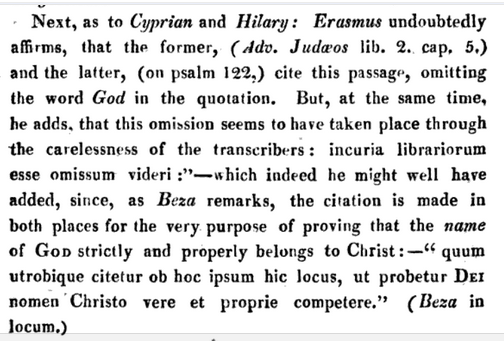 Hilary of Poitiers - De Trinitate
On the Trinity Book XI
http://books.google.com/books?id=TnpPAAAAYAAJ&pg=PA205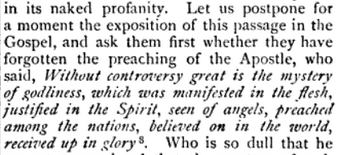 This continues in discussion
================
maybe
J. T. Rutt on Milton on Erasmus (check for verse) - this is on the verse, interesting, but not on Hilary on 1 Tim.
http://books.google.com/books?id=C64VAAAAYAAJ&pg=PA126
================
Erasmus Grotius Hincmar, Hilary only comes in on the Romans 9:5 verse
Scripture and Scholarship in Early Modern England (2006)
Ariel Hessayon, Nicholas Keene
http://books.google.com/books?id=P0bObTmMazAC&pg=PA127
Last edited: